Posted by Inci Johnson on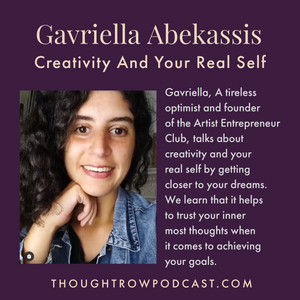 Early in Season 1, we had Gavriella Abekassis on the podcast, and our conversation continues in Season 2. In this episode, we discuss how connecting with your real self can really impact your creativity and help you to light a fire within. We also discuss pursuing your dreams, your business mindset when you are creative and how you can position yourself mentally to live your dreams as a creative. Gavriella is an expert in helping artist better understand their role in marketing and presenting their artworks to galleries and individual clients though The Artist's Entrepreneur Club. The information she...
Tags:

artist, artwork, business mindset, creativity, dreams, Gavriella Abekassis, inspiration, light a fire within, live more creatively, live your dreams, living your dream, marketing, motivation, real self, Rod and Inci Jones, Season 2 - Episode 24: Gavriella Abekassis - Creativity & Your Real Self - Getting Closer to your Dreams, The Artist's Entrepreneur Club, Thought Row Podcast
---
Posted by Angie Johnson on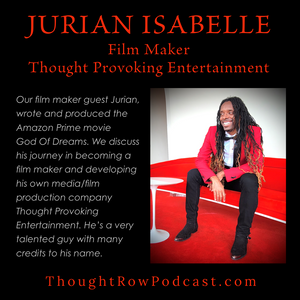 Season 2 - Episode 14: Jurian Isabelle - Emerging Film Maker, Writer & Producer Tapping Into Creative Energy Jurian Isabelle shares his journey as a filmmaker, writer, and producer. He discusses how he followed his creative dreams and let faith and spirituality fuel his vision. He discusses how he is a part of an emerging new filmmaking generation producing films and gaining worldwide reach and exposure through the modern advent of Streaming and Social Media. His forte for combining faith & spirituality with tough, gritty, and often unsettling realities showcased in the 2017 film The Last Disciples went viral on...
Tags:

Amazon Prime movies, Candy movie, creative energy, creativity, dreams, faith, film maker, follow your dreams, God of Dreams, Jurian Isabelle, producer, Rod & Inci Jones, Season 2 - Episode 14: Jurian Isabelle - Emerging Film Maker, spirituality, The Last Disciples, Thought Row podcast, Tubi, writer, Writer & Producer Tapping Into Creative Energy, You Tube
---