Posted by Angie Johnson on
Season 2 - Episode 20: Jason Thornberry - No Limits, No Boundaries on Becoming a Writer In this episode, we speak with Jason M. Thornberry about his creative beginnings as a touring musician then to the unbelievable events that led him to become a celebrated writer. Jason shares with us how he overcame a traumatic brain injury and post-traumatic epilepsy, spending many months relearning how to walk and speak. He went on to earn an MFA in Creative Writing from Chapman University. He currently lives in Seattle with his wife—and he's finishing his first novel. Jason's work appears in The...
---
Posted by Angie Johnson on
Season 2 - Episode 16 - Nadeem Majdalany - Grammy® Award Winning Musician, Songwriter & Music Director Ever wonder about the creative process of a Grammy® Award-winning musician? Nadeem Majdalany shares with us what inspires him creatively in life and music.  He also talks about the Grammy® Award-winning album Mythologies and plays a snippet from the contemporary classical masterpiece of Phoenix of Atlantis musical composition.
---
Posted by Inci Johnson on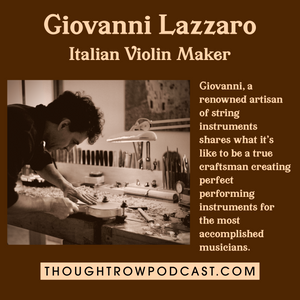 Episode 39: Giovanni Lazzaro - Italian Violin Maker In this episode, Giovanni Lazzaro an artisan of string instruments shares what it's like to be a true craftsman creating perfect performing instruments for the most accomplished musicians. He prides himself in creating instruments that best perform the true "Italian sound". Working with exotic woods and building a string instrument that not only looks elegant but achieves a heavenly sound that can last for centuries and handed down from one master musician to another.   Show Notes:  Episode 39: Giovanni Lazzaro Italian Violin Maker00:00:17 - 00:05:03Every time we schedule an...
---