Posted by Angie Johnson on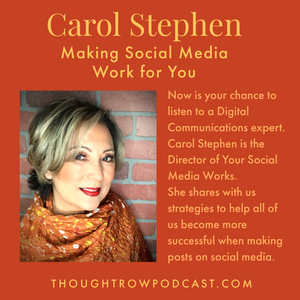 Season 2 - Episode 17: Carol Stephen - Making Social Media Work for You Have you been posting on social media and NOT getting results? Do you want to make social media work for you? As a seasoned solopreneur, Carol Stephen is at the top of her field. Formally opening "Your Social Media Works" in 2011, Carol is a social media manager helping ambitious business owners and individuals who want to get traction online. She has created successful campaigns through Twitter, Facebook, YouTube, Instagram, and LinkedIn. Carol shares with us how to leverage social media to increase business and boost...
---
Posted by Inci Johnson on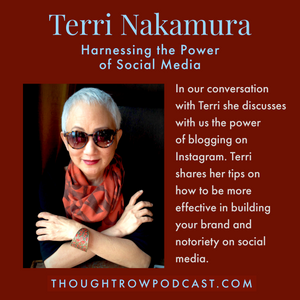 Episode 51: Terri Nakamura - Harnessing the Power of Social Media In this episode, show co-hosts Rod & Inci Jones share their quote of the day and motivational thought, and then discuss the pros & cons of social media and how its impacted their social media presence. After Rod & Inci's brief discussion, they introduce Terri Nakamura, who is a Social Media Consultant, Designer, Writer, and Author of "Blogging on Instagram: Engagement Writing on One of the World's Best Social Media Platforms". Their guest Terri Nakamura discusses with them the power of blogging on Instagram and its benefits. Teri shares with...
Tags:

being effective in social media, Blogging on Instagram, building your social media prescence, creative, creativity, Episode 51: Terri Nakamura - Harnessing the Power of Social Media, interview, motivation thought, pros and cons of social media, quote, Rod and Inci Jones, Social Media Consultant, Thought Row Podcast, Twitter
---