Posted by Inci Johnson on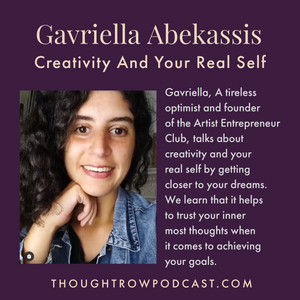 Early in Season 1, we had Gavriella Abekassis on the podcast, and our conversation continues in Season 2. In this episode, we discuss how connecting with your real self can really impact your creativity and help you to light a fire within. We also discuss pursuing your dreams, your business mindset when you are creative and how you can position yourself mentally to live your dreams as a creative. Gavriella is an expert in helping artist better understand their role in marketing and presenting their artworks to galleries and individual clients though The Artist's Entrepreneur Club. The information she...
Tags:

artist, artwork, business mindset, creativity, dreams, Gavriella Abekassis, inspiration, light a fire within, live more creatively, live your dreams, living your dream, marketing, motivation, real self, Rod and Inci Jones, Season 2 - Episode 24: Gavriella Abekassis - Creativity & Your Real Self - Getting Closer to your Dreams, The Artist's Entrepreneur Club, Thought Row Podcast
---
Posted by Inci Johnson on
Season 2 - Episode 22: Denise Dorman - Everything You Wanted to Know About PR But Were Afraid to Ask No matter what you do creatively you need to use PR effectively. Denise Dorman is a content marketing, branding, strategy storytelling, and sticky marketing expert. In this episode, she gives us advice and recommendations on what you can do to market yourself or your brand. She generously serves up & shares links in this episode to help you with your PR and marketing journey. A don't miss episode! Warning: Loads of information - You will want to have a way...
---