Posted by Inci Johnson on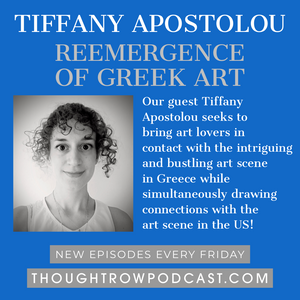 Episode 27 - Tiffany Apostolou - Re-emergence of Greek Art Our guest Tiffany Apostolou seeks to bring art lovers in contact with the intriguing and bustling art scene in Greece while simultaneously drawing connections with the art scene in the U.S. through Peri-Technes, an art platform.  Her goal is to bring the reader in closer contact with the work of some remarkable artists with Greek roots or influences, from the US and from across the pond. The website features exciting news, artist features, interviews, as well as exhibition and cultural event reviews. Artwork created by artists who want to make...
---
Posted by Inci Johnson on
 Thought Row Episode 11: Maurice Quillinan - Inside Thoughts from an Art Curator This week's Thought Row podcast guest is Maurice Quillinan from Ireland. He has studied at the Royal College of Art, London and the Ecole National Superieur de Arts in Paris. Maurice is best known in various countries around the world for his knowledge as a formidable art curator. He has staged art exhibitions in various countries. His own artwork has been widely exhibited and collected internationally.  We discuss his life in Limerick, Ireland as a curator of fine art and how he has managed to curate exhibitions in Ireland...
---