Posted by Inci Johnson on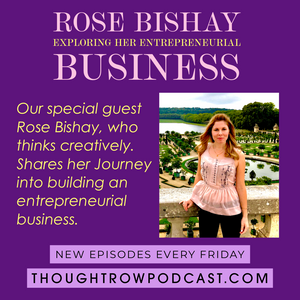 Episode 21: Rose Bishay - Exploring her Entrepreneurial Business  Our special guest Rose Bishay, who thinks creatively shares her journey into building an entrepreneurial business.  Interview with Rose Bishay - How she became an entrepreneur. And the process she went through in developing and selling her key product - These Hands Lotion Mask. Rose discusses coming from a family of entrepreneurs, being a woman entrepreneur and the entrepreneurial life. She also talks about how she started her business, mistakes that she made, challenges she faced and her work routine.   Show Notes: R: Hi everyone...And here we are...Celebrating what...
---
Posted by Inci Johnson on
Thought Row Episode 10: When You're Multi-Talented This week's Thought Row podcast guest is Cris Santos. Cris has a Master degree in Linguistics and is a content creator/blogger that writes about travel, fashion and lifestyle. As a former model and lover of the arts, she decided to take control of her life and chase her dreams. In 2017 while taking pictures to create a book trailer for her book One Way Trip, she launched PhotosbyCris Designs. She also represents apparel lines that she helped develop and market. We discuss her life as an entrepreneur and a single mom of twin teenage...
Tags:

blogger, content creator, creative, creativity, Cris Santos, entrepreneur, fashion blogger, Inci Jones Artist, inspiration, Luna Blue Girl, motivation, motivational, Photos by Cris, Rod and Inci Jones, single mom, single mother, Thought Row, Thought Row Podcast, ThoughtRow Podcast, woman entrepreneur
---