Posted by Inci Johnson on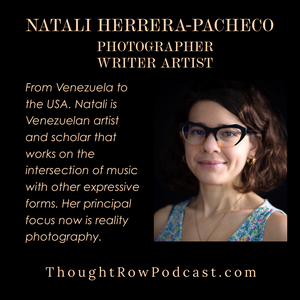 Episode 36: Natali Herrera-Pacheco - Photographer Writer & Artist In this episode, Natali Herrera-Pacheco discusses her creative journey from her formal education in Spain and Venezuela to living the creative life in the United States. We were excited to learn about her understanding and experiences with ritual music from her native city in South America. She expresses her passion about understanding human nature and the power of family. Natali uses her camera to collect reality images of day-to-day life in today's world.   Show Notes: Episode 36: NataliHerrera-Pacheco Photographer Writer & Artist00:00:18 - 00:05:03Okay so what are you drinking...
Tags:

art talk, arts and humanities, arts and humanity, creative, creativity, Inci Jones Artist, inspiration, motivation, Natali Herrera-Pacheco, Natali Herrera-Pacheco - Photographer Writer & Artist, personal stories, photographer, Rod and Inci Jones, Rod Jones Artist, Thought Row, Thought Row Podcast
---
Posted by Inci Johnson on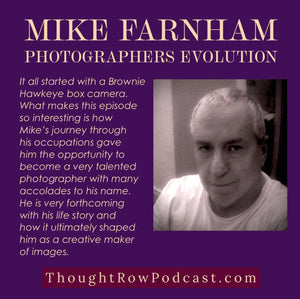 Episode 31: Mike Farnham - Photographer's Evolution It all started with a Brownie Hawkeye box camera and taking pictures of family vacations. As he grew up, he joined the U.S. Navy and was assigned to a nuclear submarine. From there he went to work for the United States government, which during those periods of his life he developed and nurtured his skills as a photographer. His work allowed him to travel to many exotic locations around the world. Affording Mike the opportunity to create amazing landscapes, architectural and editorial photographs. What makes this episode so interesting is how Mike's...
---