Posted by Inci Johnson on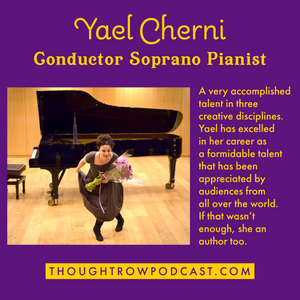 Episode 41: Yael Cherni - The Difference Between Being and Artist and an Entertainer Our guest Yael Cherni shares with us her dynamic career as a Soprano, Conductor, and Lecturer. She discusses her experiences in chamber "lieder" music and her love of Gershwin. She also discusses the difference between being an artist and an entertainer. A very accomplished talent in three creative disciplines. Yael has excelled in her career as a formidable talent that has been appreciated by audiences from all over the world. Yael also gives us a musical snack with a selection from Schuman and Gershwin. Yael Cherni:...
Tags:

arts and humanities, conductor, creative, creativity, EMBRACEABLE YOU - George & Ira Gershwin, ICH STAND IN DUNKELN TRÄUMEN Op. 13 No.1 - Clara Schumann & Heinrich Heine, Inci Jones Artist, inspiration, Israel, motivation, orchestra, pianist, Rod and Inci Jones, Rod Jones Artist, soprano, symphony, Thought Row, Thought Row Podcast, Yael Cherni, Yael Cherni - The Difference Between Being and Artist and an Entertainer
---
Posted by Inci Johnson on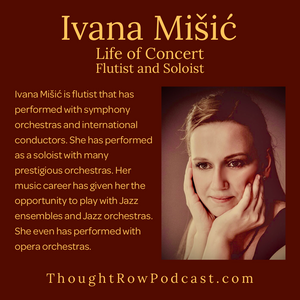 Episode 34: Ivana Mišić Life of a Concert Flutist & Soloist  In this episode, we interview Ivana Mišić a concert flutist and soloist who has worked with international conductors, orchestras, masterclasses, and competitions. She discusses growing up in Croatia and how her musical talents, inspiration, and creativity evolved from many life events and opportunities. We ask her some questions that we all wonder about when watching a flute player in an orchestra. Her answers may surprise you. Among many of her accomplishments as a performer, she has had the opportunity to play improv compositions with jazz ensembles and orchestras....
Tags:

arts and humanity, classical music, concert flutist, conductor, creative, creativity, Croatia, Inci Jones Artist, inspiration, Ivana Mišić, Ivana Mišić flutist, Ivana Mišić Life of a Concert Flutist & Soloist, motivation, music, orchestra, Rod and Inci Jones, Rod Jones Artist, symphony, Thought Row, Thought Row Podcast
---