Posted by Inci Johnson on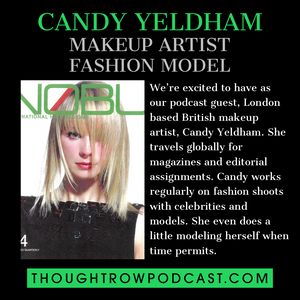 Episode 33: Candy Yeldham - Makeup Artist & Fashion Model We're excited to have as our podcast guest, London-based British Makeup Artist, Candy Yeldham. She travels globally for magazines and editorial assignments. Candy works regularly on fashion shoots with celebrities and models. She even does a little modeling herself when time permits.  On this episode of the Thought Row Podcast get to learn the in's and out's of the world of makeup artists. Our guest has a tremendous background in creating makeup that is perfect for photography, stage, video, and film. She also discusses life in front of and...
---
Posted by Inci Johnson on
  Episode: 20 - From Super Model to SuperArtist - Growing Gracefully with the Chapters of Your Life Our special guest Jennifer Moore Tymowska has been a top fashion model in New York, Paris and other countries. Once she completed that chapter of her life she became an artist and creates her magnificent paintings at the top of the world in the Alps of Switzerland. Her journey from super model to super artist is an inspiration to the lives we live. Proof that you can become a success in different careers through the different chapters of your life.   Show...
---