Posted by Inci Johnson on
Season 2 - Episode 22: Denise Dorman - Everything You Wanted to Know About PR But Were Afraid to Ask No matter what you do creatively you need to use PR effectively. Denise Dorman is a content marketing, branding, strategy storytelling, and sticky marketing expert. In this episode, she gives us advice and recommendations on what you can do to market yourself or your brand. She generously serves up & shares links in this episode to help you with your PR and marketing journey. A don't miss episode! Warning: Loads of information - You will want to have a way...
---
Posted by Inci Johnson on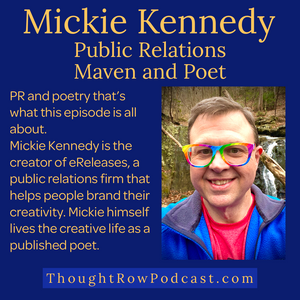 Episode 35: Mickie Kennedy - PR, Promotion, and Poetry In this episode, we are excited to have as our guest an expert in helping people brand themselves by the effective use of press releases. Mickie Kennedy, Founder of eReleases.com, shares with us strategies on how to get noticed in the media by the effective use of press releases. Mickie not only knows the PR game, but he manages to create and publish his poetry. We were able to get Mickie to read a couple of his poems during the interview. If you are planning on creating some PR for your...
Tags:

creative, Episode 35: Mickie Kennedy PR Promotion and Poetry, eReleases, eReleases.com, how to promote yourself, Inci Jones Artist, inspiration, motivation, poetry, poetry reading, PR, PR game, press releases, promote yourself, Rod and Inci Jones, Rod Jones Artist, Thought Row, Thought Row Podcast
---