Posted by Inci Johnson on
  Season 2 - Episode 28: Adam "A.J." Schenkman - Writer, Author, Historian & Teacher  In this episode, we speak with Adam "A.J." Schenkman, who teaches history in the Lower Hudson Valley and writes about the history of Ulster & Orange counties. He shares his love of teaching history and making it relatable to his students. He has some very interesting stories about teaching, history, and his experiences in uncovering American historical moments. We start our interview with A.J. discussing his life as a writer and quickly move into his background as an author of books that present a unique...
---
Posted by Angie Johnson on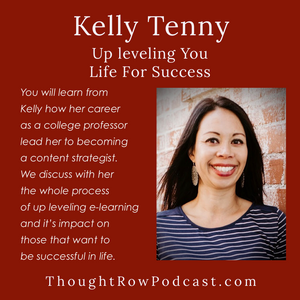 Season 2 - Episode 21: Kelley Tenny - Up Leveling Your Life for Success Kelley Tenny shares with us her journey as a teacher in the public school system where she helped high-risk, inner-city kids become better learners. She later went on to become a Master's Curriculum Professor & Instructor. She is the Founder of Teach Your Brilliance which helps entrepreneurs. She discusses how her middle school job as a teacher gave her a bounty of knowledge on how to motivate and inspire people of any age and background. She helps entrepreneurs and coaches create e-learning platforms to become champions...
Tags:

coaches, entrepreneur, high-risk kids, inner-city kids, inspire, Kelley Tenny, leadership skills, Long Beach, middle school, motivate, professor, public school system, Season 2 - Episode 21: Kelley Tenny - Up Leveling Your Life for Success, Teach Your Brilliance, teacher, teaching online, up leveling
---