Posted by Inci Johnson on
  Season 2 - Ep: 4: Sixtine Crutchfield - NFT's the Future of Creativity Have questions about NFT's in the art world? What are they? Why are they important? How do they affect the art world? Rod and Inci were pleased to create this special edition episode on NFT's. This method of selling creativity is being talked about everywhere. Still, there seems to be a lot of confusion about what an NFT is and how it applies to art and other forms of collectibles, luxury goods, and even music. They discuss NFT's and what the letters actually stands for. They...
---
Posted by Inci Johnson on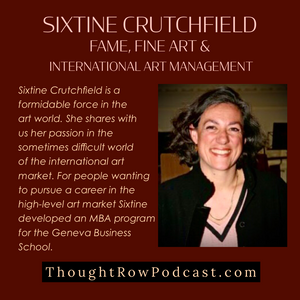 Episode 37: Sixtine Crutchfield - Fame Fine Art & International Art Management Sixtine Crutchfield is a formidable force in the art world. She shares with us her passion in the sometimes difficult world of the international art market. One of her most recent accomplishments was designing and implementing the Geneva School of Business - Fine Art International Management (FAIM) MBA program - A Business Graduate Degree in Fine Art. Anyone that is pursuing a high-level career in the art world will want to hear what Sixtine Crutchfield has to share. This episode will give everyone the opportunity to listen...
Tags:

art, art market, art marketing, art scene, art talk, arts and humanities, creative, Fame Fine Art & International Art Management, Geneva, Geneva Business School, Geneva School of Business - Fine Art International Management, high level art market, Inci Jones Artist, inspiration, motiviation, Rod and Inci Jones, Rod Jones Artist, Sixtine Crutchfield, Sixtine Crutchfield - Fame Fine Art & International Art Management, Switerland, Thought Row, Thought Row Podcast
---