Posted by Inci Johnson on
  Season 2 - Episode 26: Henry Willard - Audio Engineer Discusses the Importance of Audio Henry Willard is a pro when it comes to television, film & animation audio. He is an audio engineer based in South-East England, the UK specializing in remote recording for voiceover artists & voice actors and live in-session voice-to-picture synchronization for television commercials, animation & motion pictures around the world, as well as recording, direction, editing, mixing & sound design for commercials, radio, e-learning, podcasts & more. Henry shares with us his love for voices, words & lyrics, and his passion for recording voices...
Tags:

ADR Recording, animation, audio engineer, creativity, Henry Willard, inspiration, motion pictures, motivation, recording your voice, Rod and Inci Jones, sound better when recording your voice, sound design, television commercial, Thought Row Podcast, voice actor, voice to picture synchronization, voiceover artist
---
Posted by Inci Johnson on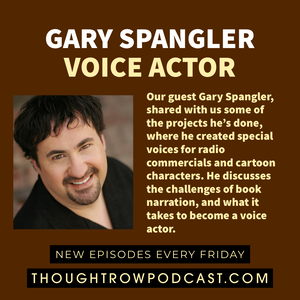 Episode 24: Gary Spangler - Life of a Voice-Over Actor   Our guest Gary Spangler voice actor, shared some of the projects he's done where he's created special voices for radio commercials and cartoon characters. Gary is one of those lucky people that has great control over his voice. He can go anywhere from a British accent to a quirky cartoon character. He even shares with us some of the voices he has created. One minute he is narrating a pharmaceutical commercial for radio, and the next, the regional dialect of the U.S.. He discusses the challenges of book narration...
---