Posted by Angie Johnson on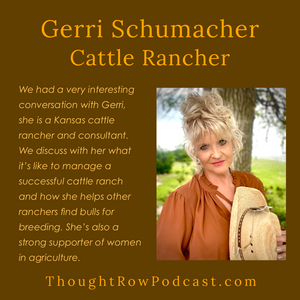 Season 2 - Episode 19: Gerri Schumacher - Cattle Rancher Reflects on Living Life Creatively What does raising cattle have to do with inspiring creativity? Plenty...Gerri shares with us her experiences of growing up on a cattle ranch where she developed strong work ethics, leadership skills, and the ability to promote growth in cattle operations. She discusses her relationship with nature and how it inspires and helps her to speak from the heart when writing. She also talks about supporting women in agriculture.   If you enjoyed this episode please help support our podcast by buying us a cup...
---
Posted by Inci Johnson on
Season 2 - Ep: 8: Karen Poppy - Hyperconnected to Everything and Everyone In Rod & Inci Jones's quest to bring exceptionally interesting and talented people to the Thought Row podcast, they interviewed Karen Poppy. During our interview with Karen, they were given a glimpse into the creativity of poetry and how the lives we lead often influence writing and poetry. Karen Poppy leads a busy life as a practicing attorney and still finds time to follow the creative journey of writing books and poetry. In this episode, Karen shares the earliest childhood recollections of writing, all the way to...
---